Nota publicada en la revista Inspirational #20 – Noviembre 2018 Por Raquel Glusman Carolina Antoniadis, exceptional South American artist, and one of the most prominent members of her generation. Her paintings are like a Dionysian celebration. She feels identified with the concept of beauty and aesthetic. Noted for a style characterized as strongly influenced by the modernist movement from which she borrows the recovery of organic forms, curves and the natural flowing of beautiful feminine images. Murals, drawings, and objects (textiles, ceramics, jewellery, etc.), with her always present primary subjects (figurative) as an allegory and a portrait with certain nostalgic imprint. Subtle, painful, and beautiful images. Endless layers overlapping like a dream. She's been mostly influenced by Japanese art, Neobarroquism, Gustav Klimt (in his treatment of surfaces and human figure) with a touch of Pop Art, Andy Warhol and the factory, and 1950s/1970s imagery. The artist gathers images of relatives, and objects connected to her family history. Scenes from childhood, dolls and mysterious gadgets affecting the genesis of these paintings. Radiant colours vibrating in exquisite chords with different dimensions in the same pictorial space. Her particular way of handling materials can easily trick the eye. Paintings easily transformed by one's eye into engraving or embroidery. This is clearly the case in a series re-exploring with unique sensibility the textile tradition of South America by directly quoting colours, shapes, and materials from this part of the world related to molas and ñanduty (local and very unique textile work). Carolina Antoniadis, carries out a set of infinite pictorial layers combining decorative and existential, projecting the aura of interpersonal relationships. Contemplation of her art bedazzles like the light of a spur. A powerful spiritual atmosphere, through timeless work emerging from this rather unclassifiable artist and her production, whose eternal force characterizes her mode of expression. Antoniadis has built a solid international career both as an artist and designer with a strong imprint in the textile world. Her great talent at the service of a meticulous practice and an innate taste for interlacing, makes it into a poignant testimony of homogeneity and fidelity to herself. She always knows how to maintain a balanced presence in the field of design and art. As a teacher, her mark is strong, even at a time when oscillations and exchanges between art and design were not frequently associated, she's always been capable of dipping into both disciplines.
«I always said I was a kind of spy, because I carried information from one side to the other. I tried to get people to incorporate poetry in some way at the University of design where I taught. Same at my classes in Art College where I encouraged my students to work with a more systematic line of thought."
"
I think that would be an ideal educational model. Mixing a program where design and art were simultaneously practiced. Obviously, it is a theory emerging from a non-transferable experience: mine. The one that I try to promote."
A true experimental laboratory for the construction of thoughts, discourse and critical subjectivity in the field of contemporary visual arts. An ideal training not often provided by educational institutions. Aside from teaching at University, and her own work, she's been running a private studio for 25 years where many artists have been trained. Her creative process seems to mix the handling of sophisticated ornamentations, formal simplicity and individualistic irony of figurative representations that turn into paintings that work as independent elements. Many homely scenes appear as the main reference. An exquisite recollection of emotions. Needless to say, discovering one's own origin and therefore one's work of art, is not an easy task. It is hard, as memory can be deceiving. While extracting fragments from the past – thus making them visible, also superimposes data. Almost always getting them mixed. There are also unconscious drives hiding what has been truly lived and Antoniadis' always generous imagination materializes in a profusion of loud and exuberant colours interwoven with geometric and undulating lines. Familiar figures alternating and mingling, standing in the way and turning the surface into a lively storytelling moment of an autobiographical narrative centred in characters and objects of the childhood universe, perhaps even without being completely aware of it. At any time, she is someone who emphasises the originality of the autographic, carried on perhaps with disappointment and scepticism and hiding herself behind an obvious prolific and excessive ornamentalism. Her own way of not exposing so much a melancholic vulnerability. Carolina Antoniadis universe is the one of a person who's been always immersed in art. Always drawing and painting at home, as she was born and raised into a creative and nurturing household. She was only 14 when her Father passed away, and 35 when her mother died after a devastating illness, (her mother was also a great lover of ornament and fashion). Those big losses made an impact on her perception of the world. Hers was a very formal academic artistic education – through a degree and years of attendance at a master painter's studios (Luis Felipe Noe, and Ennio Ioni). Granddaughter of a Greek painter who lived in Argentina, Demetrio Antoniadis, whom she never met and was in many ways a source of inspiration. A role model who transmitted his love and passion for art to the family bypassing generations with his work. "I learned by looking at the pictures of my grandfather's work and the artists and iconic figures I admired the most. Photography of the 1970s has also been a source of inspiration. Always searching to embellish and turn something into something else. Transcending into another dimension: the challenge of one's work is the search for transformation, resolution and closure". "Needless to say, it was my mom – as the one who outlived them both (grandfather and father) – and kept the oral transmission of my grandfather's figure retelling his story and love for painting. She was also an amazing drawing artist, a fashion designer and a great lover of ornamental style. Her life was turned upside down by my father's death and was forced to work very hard to make ends meet, providing us with a very privileged education and exposure to art. Her brother is a photographer living in Paris. Perhaps, through me, in many ways she realized herself. Somehow, I made her dream come truth. I've been supporting myself as an artist, for many years now. I was not fortunate enough to have them all present in my life for very long, but they have both been good parents and left a mark. My father was distant but also committed to our education, a strong core of ethical values and formative principles. He really sacrificed himself to give us a good education …." Carolina Antoniadis work is about feelings, memories and private well lived moments. An art featuring pre-determined, repetitive, unvaried, and anonymous images alternating some of them with and without much creative transformation over a very ornamental drawing. She works in thematic series, with photographs, silhouettes and an explosion of superimposed colours until the auras expand transcending the canvas, gathering among themselves and provoking a rather psychedelic pop effect. A great powerful force exploding into a rain of colours and reflections.
At any time, she is someone who emphasises the originality of the autographic. The genesis of her paintings incorporating scenes from childhood, and mysterious objects related to the family history. She excels in the art of recycling anodyne images and insignificant objects to produce a work that synthesizes full lives. Radiant colours vibrating in exquisite chords. Different dimensions in the same pictorial space with micro-stories like fragrances summoning a flash of nostalgic experiences incorporated into memory. Both time and space are altered selectively. The universe of her life and that of her work cemented in a past from where she definitively emerges victoriously. Endless layers overlapping like in a dream with great chromatism and skill. Exquisite care in every detail makes the work readable.
«My paintings are like a collage … where I assemble pictures to the painting, editing different scenes. Almost always, same scenario but different scenes». Antoniadis entangled and sophisticated production stands out today as a complex crosspoint. An intersection between the existential decorative style and her way of being a woman with an established relationship with the world. Resilience is her engine. Today, she is as comfortable in her creative process as in private life. Her partner (an architect) contributes to the entrepreneurship of manufacturing limited editions of her designs («Very Antoniadis»). Beautiful objects, where the aesthetic impact of the ghosts are mimicked with a luminous look.
Carolina Antoniadis feature written by Raquel Glusman*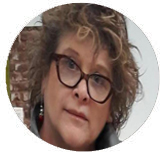 Raquel Glusman:
Born in Argentina. Fortunate enough to be a fish of nowhere. Trained and lived in London, Los Angeles, Rio de Janeiro, and Belgium. Started my career in the film business and journalism in the 80's. I witnessed the big changes into digital. Shifting to my big passion, the visual arts in 2000. Currently based in Latin America, surrounded by many talented artists. I believe my cross cultural perception highlights the very best of all worlds.